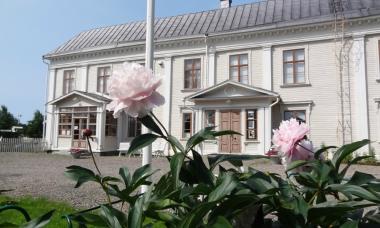 The Bladh House, heart of the town
The founder of Kaskinen, Peter Johan Bladh built this house in the 18th century. According to the rumor, it was originally built in Sweden, then taken into pieces, transferred to Finland by  ship and rebuilt on its current location in 1788.
The building and its 24 rooms have not only served as a home for the Bladh family and their merchant house, but also as a church, clergy, school, court house, the Magistrate, the Police Station and townhall during its 225 years of existence.
Today it is a cultural center and can be rented for private events. Because of its multifaceted functions the house of Bladh has been called the heart of the town.
The beautiful garden of the house is accessible always. The house itself is best viewed during the opening hours of Boutique Bladh.