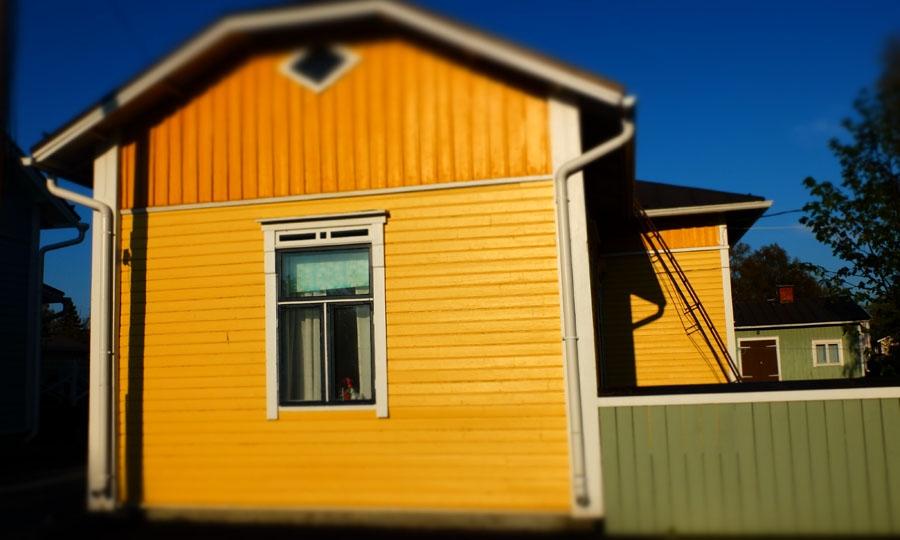 Rådhusgatan 73 - Alexandra Enroth
Maria Alexandra (Sandra) Enroth
Weaver of fishing nets
(b. 1869 - d. 1942)
The northern part of Kaskinen was were the workers and fishermen lived, close to the Kalaranta - the old fishing harbor that was the centre of their lives. This house belonged to fisherman Oskar Enroth. His sister Sandra was a single woman, and customary of the time, she remained near the household of her brother. Sandra had enough means to build her own cottage on the yard.
Oskar's family and Sandra had a few cows, sheep, chicken and one pig in the yard. Self sufficient living was also supported with a big vegetable garden, black- and redcurrant bushes, and an apple tree.
Sandra's cottage had two small apartments one of which she let out to earn much needed extra money. There were plenty of seasonal workers of the harbour that needed housing. Each little cottage, sauna and attic room was for rent.
As a young woman Sandra catered in the passenger ships that traveled between Kaskinen and Sundsvall in Sweden. Sadly she was soon out of job: the route was changed into coast-traffic due to the first world war. And after the war in 1920ies the newly built railroads was a concurrent too hard to beat by the slow boats.
Sandra needed a new profession and she opted for weaving fishing nets in the fishing harbor. It was a job mostly done by widows and spinsters, who solemnly sat weaving from the crack of dawn until late in the night with pipes in their mouth. It was heavy work and the women did not earn much. Sometimes instead of money, they got fish as payment. The women often joked: "Today we eat herring with potato, and tomorrow potato with herring."