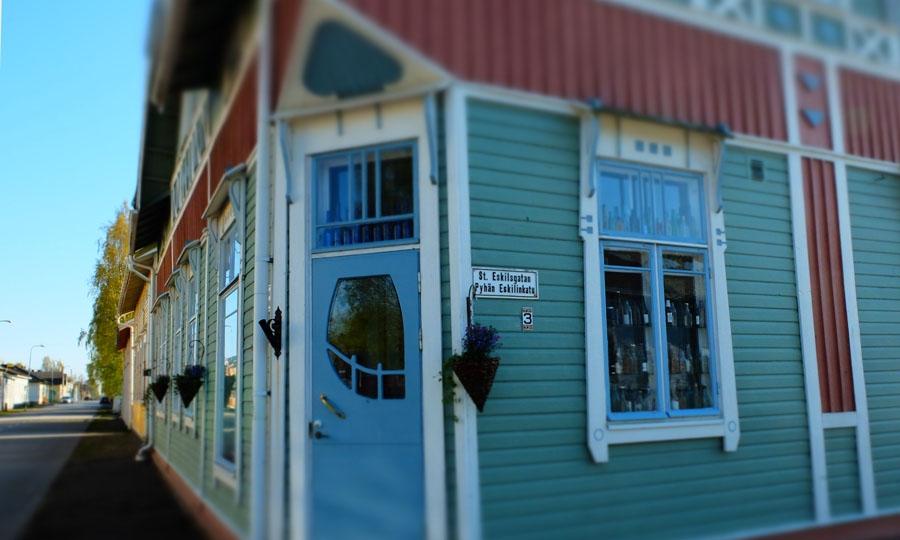 Rådhusgatan 44 - Katy & Etel Ahlqvist
Sisters Katy and Etel Ahlqvist
Owners of the old milk shop
(b.1908 - d.1982) (b.1909 - d.1991)
The sisters Katy and Etel Ahlqvist ran an old-style milk shop at this address for several decades. The current owners of the building have preserved the shop and added furnishings for a small retro-style café, which is open during most summer events and on other special occasions.
Katy and Etel inherited the property from their father, Gabriel Ahlqvist, who renovated it and expanded it into its current form back in 1913. The name 'Villa Höblom' comes from Ingeborg Höblom - the girls' grandmother, who had built the original structure on this spot.
People who did not have their own cows came to Katy and Etel for milk. Customers brought their own jugs to carry the milk back home. There were also candy, bread, and pastries for sale. The sisters were known as friendly ladies who always gave sweets to children who sang a song for them.
In the first decades of the 20th century, a third of the people who owned a home in Kaskinen had a cow or two. Some wealthier families even had seven. Katy and Etel did not -- they bought their milk from a farm on Eskilsö, the next island over from Kaskinen.
The milk business flourished, since keeping cows in Kaskinen was not easy. The cows stayed in the sheds behind people's houses, and there were almost no fields on this island to feed the animals. Children had to do the 'grazing', walking along the waterline to collect hay for livestock. Also, farmers from the neighbouring villages sold hay at the market two days a week. By the 1980s, Kaskinen had only one cow, and every cow fewer meant one more customer for Katy and Etel.
The limited amount of land in Kaskinen affected more than cows. There were no real farms here, so the food came from farmers in surrounding villages. They went door to door to sell their goods: firewood, hay, potatoes, butter, and other staples. While market days had been established in the early 19th century, the market was banned because of fights and excessive drinking.
In the 1930s, such shops as this were commonplace - there were around 30 of them on Raatihuoneenkatu alone. They were all very small, annexed to the home of the owner, and very limited in their selection of goods.