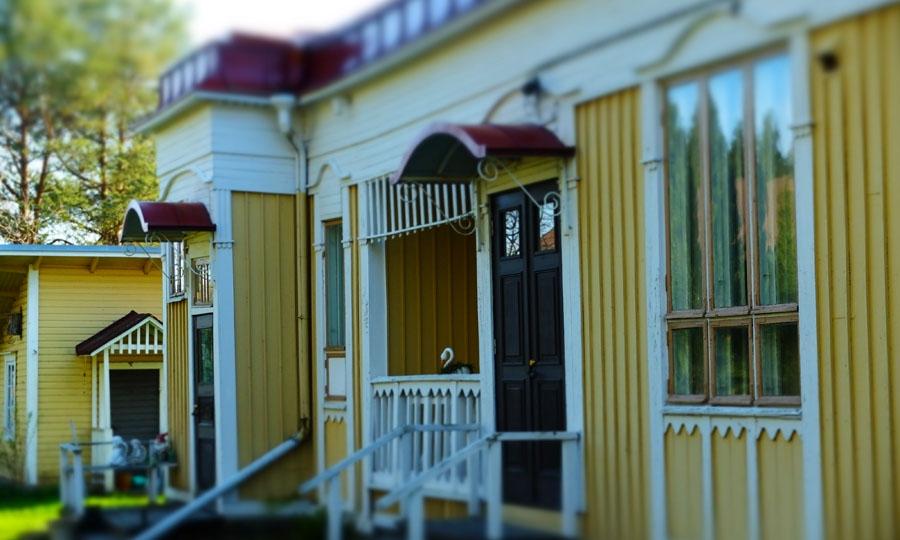 Kung Gustavs allé 7 - Axel "Smiling" Sjöblom
Axel "Smiling" Sjöblom
Sea captain
(b. 1894 - d. 1983)
This building was designed to be a bank. Since its construction, in 1911, it has served as a pharmacy, a fabric shop, and a doctor's practice. Captain Sjöblom bought the building in 1951.
Axel Sjöblom worked as a sea captain for several decades with the international shipping company Thordén. Their ships plied regular routes, for example, along the west coast of North America, eastern South America, and Indonesia.
Axel was known as a sunny, good-humoured man - hence his nickname "Smiling". He preferred to hire men from Kaskinen for his crew. He regarded them as his own sailing family, and for the young seamen of this small Finnish town he was very much a trusted father figure.
Axel Sjöblom began his shipping career early, at the age of 16. At 20, he set sail on his first big voyage, to Melbourne, Australia, with the frigate "Glenard". By the age of 28, he had passed the most advanced navigation examinations of the Turku navigation academy and had been awarded the title of sea captain.
The most dangerous time in his career came with the Second World War. The trade ships continued on their journey regardless of the mining of the sea. The seamen knew that the next trip was quite likely to be their last. In 1941, Sjöblom's ship, "Mathilda Thordén", had a very close call. He was on the return journey from South America to New York when a German submarine attacked the ship. Axel ordered his crew to take the most rapid turns possible and follow an erratic route. He managed to dodge the torpedos. Finally, just before the ship reached Bermuda, the Germans gave up, after spending three days trying to sink his ship. This heroic trip earned him the nickname "the sighthound of the North Atlantic".
Upon its return to New York, his ship was taken into custody and the crew into internment on Ellis Island by the US Coast Guard. Besides them, there were 150 Finnish seamen from other ships. They were fortunate to be released after 30 days. Sjöblom then worked for the New York office of his shipping company, until 1945, when the end of the war meant that he was able to return home to Finland and continue his career.
After his retirement, Axel Sjöblom returned to Kaskinen. He was often spotted walking his two boxers here. Locals would all know that the man walking past was Captain Axel "Smiling" Sjöblom with his dogs. He always had time to stop for a chat and had the greatest of stories to tell. To the young he always said: "One day you should visit Singapore - it is such a fantastic place."